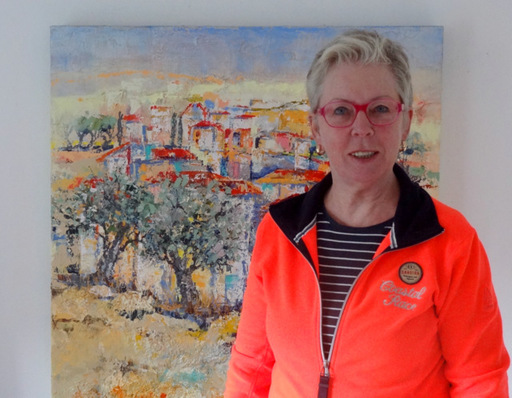 CURRICULUM VITAE
During four years: Art - training in Utrecht (The Netherlands): painting, drawing- and textile art.
Teacher at the Secondary schools in Oudewater and Breukelen (Utrecht - The Netherlands)
Startet in 1979 with a studio/gallery in Linschoten (Utrecht). Here she painted, designed - and manufactured jewelry
From 1990, she has concentrated mainly on designing, illustrating and painting.
Since 2009, she lives and works in Bad Bentheim (OT. Gildehaus, Germany), where here atelier/galery is
PAST ASSIGNMENTS
Exhibitions in Germany and The Netherlands

Art fairs in Germany and The Netherlands

Paintings of village scenes, landscapes and portraits - specializing in figurative compositions of personal life-styles

Illustrations - in professional business magazines (for special occasion cards), as well as for the Chamber of Commerce.

Designing (by commision) special occasion cards and posters for different publishers of magazines

Designing of colouring pages for Bruynzeel Pencils

The Posters specially commissioned for children's rooms in order of Verkerke Postres (now Hallmark)
The Posters and Cards have been publised internationally. Some patterns/designs have also been printed on bath towels, puzzels, memo-plates and paper for making 3-D cards
Giving drawing-courses for adults and giving art class at the day treatment in a nursing home

Framing of paintings

Paintings on silk
EXHIBITIONS o.a. in:
2017 - ADAF, Amsterdam
2017 - Van de Valk Art, Zwijndrecht
2017 - Atrium Art, Urmond
2017, 2016 - Art Wageningen
2017, 2016, 2015 - National days of Art, Rotterdam (NL)
2016 - Art Endhoven, Eindhoven (NL)
2016, 2015 - Art in the Valley, Ede
2016, 2015, 2014, 2013, 2012, 2011 - Torhaus Legge, Tecklenburg (Germany)
2016, 2015, 2014, 2013 - Art Assen, Assen (NL)
2015 - Museum of Breda, Breda (NL)
2015 - Art Fair of Noord-Brabant, Lithoyen (NL)
2015,2013, 2011, 2010 - Oldenzaal - Kunst in de etalage (NL)
2014 - Galerie Roba, Mill (NL)
2014 - The TMZ building,Almelo (NL)
2010 - Finanzamt, Bad Bentheim (Germany)
2010 - The Center for Art "Haus Westerhoff", Bad Bentheim (Germany)
Amersfoort - Van Munster Complex
Hoevelaken - Intres gebouw
Woerden - Stadsmuseum
Baarn - Drakenburg Conferentie Centrum
Amsterdam - Nieuwe Kerk
KUNSTMARKTEN oa in:
Oot-Marsum (2010), Zutphen (2011, 2010, 2009), Bathmen (2012, 2010), Bad Bentheim (2015, 2014, 2010), Hengelo (Tuindorp 2016, 2015, 2014, 2013, 2012), Almelo, Assen, Enschede (Volkspark 2015, 2014, 2013, 2012), Ahaus (Germany), De Bilt (2015, 2014), Buren (2016, 2015), Wijk bij Duurstede (2015)